Figure skating is a sport that takes place on ice and involves individuals, pairs or groups performing. In 1908, it was the first winter sport to be included in the Olympics. There are four Olympic disciplines, men's singles, ladies' singles, pair skating and ice dancing. Synchronised skating and four skating are the non-Olympic disciplines. Generally, skaters will be required to perform two programs, long and short. These programs can include spins, jumps, moves in the field, throw jumps, lifts, death spirals and a number of other elements.
 
Figure skaters are able to compete at various levels, beginners right up to Olympic level at local, regional, national and international competitions. Judging and competitions are regulated by the International Skating Union. As well as being a sport, figure skating has also transferred well to the show business world. Ice shows, for example, are popular with figure skaters both during and after competitive careers.
 
People have been ice skating for centuries, but figure skating in its current form originates from the middle of the 19 th century. Over the years there have been a number of famous figure skaters that have caught the attention of a much wider audience. And it's these that we're going to share with you today.
 
Jayne Torvill and Christopher Dean

Jayne Torvill and Christopher Dean are British ice dancers that reached their peak at the Sarajevo 1984 Winter Olympics. They won gold and became the highest scoring figure skaters of all time. Skating to Maurice Ravel's Bolero, their performance was watched by a UK audience of more than 24 million. Twelve perfect 6.0s and six 5.9s, including artistic impression scores of 6.0 from each one of the judges. Ask anyone, even those who aren't avid figure skating fans, and this may well be a couple that gets the most mentions. Following the 1984 World Championships, the pair turned professional and continued to wow audiences until they retired from competitive skating in 1998.
John Curry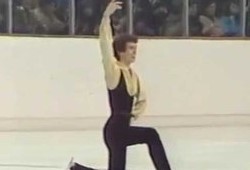 John Anthony Curry, OBE was born in 1949. This famous British figure skater was the 1976 Olympic and World Champion. He's most famous for combining ballet and modern dance into his skating routines. His original dream was to become a dancer, but parental disapproval of such an activity led him to start taking figure skating lessons at the age of 7. He received his first title in 1971, and the following year found a sponsor that allowed him to travel to America to study. He was coached by Gus Lussi and Carlo Fassi and in 1976 earned himself the European, World and Olympic titles. Curry turned professional in 1976 and founded a touring skating company. Many of the routines he choreographed himself. And also commissioned work from famous dance choreographers such as Sir Kenneth MacMillan, Twyla Tharp and Peter Martins.
Peggy Fleming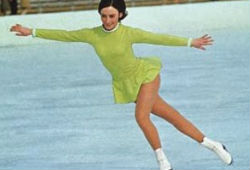 Peggy Gail Fleming was the 1968 Olympic Champion in Ladies singles and a three-times World Champion. Following on from her competition success she became a well-known television commentator on her favourite sport, and has been commentating for more than 20 years, including several Winter Olympic Games. At the height of her figure skating career she was considered ahead of her time in every way. Stylistically, choreographically and athletically. She seemed to be able to skate across the ice gracefully, smoothly and effortlessly. The great Carlo Fassi, famous figure skating coach, aided in her 1968 Olympic gold medal winning performance with his trade mark elegance, music, taste, jazzy and modern feel.
Sonja Henie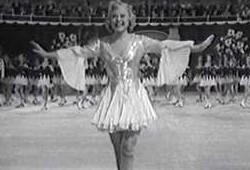 Sonja Henie was a famous Norwegian figure skater and also a well-known film-star of her time. She was born in 1912 in Oslo, Norway. She was an Olympic ladies singles champion, three times. Ten times World Champion as well as six-times European Champion. In fact, she won more Olympic and World titles than any other female figure skater. When she had finished competing she enjoyed a very successful acting career. At the height of which she was one of Hollywood's highest paid stars. Henie's father was a one-time World Cycling Champion and she had been encouraged from an early age to take up a variety of sports. Initially, it was skiing she showed a talent for but then followed her older brother and took up figure skating. Her first major competition win was at the age of 10 and following on from that she achieved an 8 th place in the 1924 Winter Olympics.
Evgeni Plushenko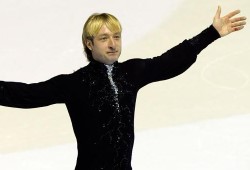 Evgeni Viktorovich Plushenko is a Russian figure skater with quite an impressive list of competitive achievements. Four-time Olympic medallist, three-time World Champion, seven-time European champion, four-time Grand Prix Final champion and ten-time Russian national champion. He is tied with Swedish Gillis Grafstrom for receiving the most Olympic medals in figure skating. Born in 1982, in Dzhamku in the Soviet Union, he lived in Volgograd before moving to Saint Petersburg in 1994. He was first enrolled in figure skating lessons at the age of four. His mother had decided he needed exercise because he frequently suffered from colds. When he moved to Saint Petersburg he began training under the guidance of Alexei Mishin and quickly progressed on the international figure skating scene. He was the youngest ever World Junior Champion and World medallist at 14.