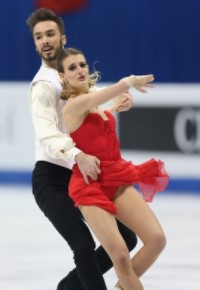 This afternoon, crowds at the Motorpoint Arena were treated to a spectacular Gala Exhibition following the ISU European Figure Skating Championships.
Opening the show was British Novice Champion Graham Newberry, who skated to 'We Speak No Americano' by Yolanda Be Cool & Dcup. Graham's father was British Champion in 1989, and speaking before the Gala he said:
"Skating is very much in our family and to now see my sons represent Great Britain as I did makes me very proud. Graham is also excited to skate on the same ice as some of his skating heroes."
One of the fan's favourites from the Championships, Florent Amodio of France, who took the bronze medal in the Men's competition, performed to Ray Charles' 'Mess Around'. And closing the first half of the Gala were seven-time British Ice Dance champions, John and Sinead Kerr.
Kicking things off in the second half were Olympic Gold medal skater, Robin Cousins' choreographed group of 100 young skaters, who performed their Opening Ceremony number. They were followed onto the ice by British novice skater Maxine Yu who skated to 'Your Song' by Ellie Goulding.
After a sixth place result for the young GB Ice Dance couple, Penny Coomes/Nick Buckland took to the rink once again in the Gala where they memorised the audience with their routine to Coldplay's 'Fix You'.
Tomas Verner of the Czech Republic thoroughly entertained the fans with his skate to 'Sexy And I Know It', sporting a curly wig, sunglasses and gold hot-pants. 
Completing the action were four routines from the 2012 European Champions themselves. Pairs Champions Tatiana Volosozhar/Maxim Trankov of Russia, Ladies Champion Carolina Kostner from Italy, Ice Dance Champions Nathalie Pechalat/Fabian Bourzat of France, and finally Men's Champion and Russian skating star Evgeni Plushenko with his spellbinding performance to 'Je Suis Malade'.
Full performers schedule for the Gala Exhibition:
Graham NEWBERRY (GBR), Novice Skater
Elena ILINYKH / Nikita KATSALAPOV (RUS), 3rd Ice Dance
Florent AMODIO (FRA), 3rd Men
Mari VARTMANN / Aaron VAN CLEAVE (GER), 5th Pairs
Viktoria HELGESSON (SWE), 5th Ladies
Ekaterina RIAZANOVA / Ilia TKACHENKO (RUS), 5th Ice Dance
Michal BREZINA (CZE), 4th Men
Ksenia STOLBOVA / Fedor KLIMOV (RUS), 3rd Pairs
Polina KOROBEYNIKOVA (RUS), 4th Ladies
Anna CAPPELLINI / Luca LANOTTE (ITA), 4th Ice Dance
Elene GEDEVANISHVILI (GEO), 3rd Ladies
Vera BAZAROVA / Yuri LARIONOV (RUS), 2nd Pairs
Sinead KERR / John KERR (GBR) Maxine YU (GBR), Novice Skater
Penny COOMES / Nicholas BUCKLAND (GBR), Ice Dance
Tomas VERNER (CZE), 5th Men
Stefania BERTON / Ondrej HOTAREK (ITA), 4th Pairs
Kiira KORPI (FIN), 2nd Ladies
Ekaterina BOBROVA / Dmitri SOLOVIEV (RUS), 2nd Ice Dance
Artur GACHINSKI (RUS), 2nd Men
Tatiana VOLOSOZHAR / Maxim TRANKOV (RUS), 1st Pairs
Carolina KOSTNER (ITA), 1st Ladies
Nathalie PECHALAT / Fabian BOURZAT (FRA), 1st Ice Dance
Evgeni PLUSHENKO (RUS), 1st Men