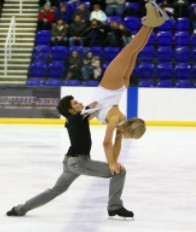 As England gears up to be the focus of worldwide sporting attention in 2012 for the London Olympic Games, another major event is set to catapult the country into the global limelight.
The ISU European Figure Skating Championships are being held in England for the first time in over 20 years after Sheffield was successful in its bid to stage the prestigious event.
The National Ice Skating Association (NISA) is staging the International Skating Union (ISU) European Figure Skating Championships at Sheffield Motorpoint Arena from 23-29 January 2012.
It is the third largest competition involving figure skaters, behind the World Championships and the Winter Olympics, and an Executive Organising Committee, under the Chair of Liz Littler and including NISA President Alan Seabrook, has been formed to plan the event delivery.
There will be intense media interest in the event, with the BBC, as well as many TV companies from outside Europe covering the Championships.
Competition schedules and results, video footage, photo galleries and ticket information will be available via the event website http://europeans2012.co.uk/.
Keith Horton, Chief Executive of NISA, said: "The ISU European Figure Skating Championships is one of the top three events on the skating calendar and will attract competitors and their coaches from all across Europe and spectators from all over the world to Sheffield.
In a year when the whole country will be celebrating the London Olympics, it will be hugely exciting to kick off 2012 with this blue ribbon ice event.
We are expecting scores of European journalists in Sheffield to cover the competition, many of them using the event to visit England ahead of the Olympics later in the year."
Following the 2011 Championships in Bern, Switzerland, where Edinburgh's two-time Olympians Sinead and John Kerr took overall ice dance bronze, the baton for the organisation of the 2012 event has now passed to NISA ahead of an ISU inspection delegation in Sheffield during April.
NISA, the national governing body responsible for the development of the sport throughout Great Britain and Northern Ireland, worked in partnership with Sheffield International Venues (SIV), Sheffield City Council's Major Sports Event Unit, development agency Yorkshire Forward and UK Sport to put together a bid for the event.
It forms part of the city's multi-million pound events programme for 2011, which has just seen the English Open Table Tennis Championships at EIS Sheffield and also features the Aviva Indoor UK Athletics Trials and Championships at EIS Sheffield, British Adult Skating Championships at iceSheffield and DSE National Junior Disability Swimming Championships at Ponds Forge International Sports Centre all in February.