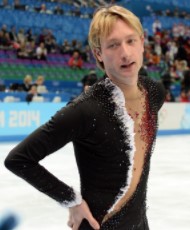 Russian skating star, Evgeni Plushenko wowed crowds at the Motorpoint Arena, Sheffield this afternoon when he took the gold medal with a stunning combined score of 261.23 points to become the 2012 Men's European Champion.
After finishing in second place for his Short Programme with 84.71 points, Plushenko impressed judges in his Free skate to receive a score of 176.52 points, earning him his seventh Men's European Championship title. Plushenko took the lead from Russian team mate Artur Gachinski who was in front following the Short Programme on Thursday with 84.80 points. Gachinski took the overall silver medal with a combined score of 246.27 points. Taking the overall bronze European medal was reigning Champion, Florent Amodio of France with a combined score of 234.18 points.
Plushenko was delighted to win his seventh Europeans title, he said:
"I'm happy with my performance, and with the results. After this competition I will go to see my doctors and go to Munich for surgery, so I'm not going to compete in the Worlds. I'm going to have surgery on the left knee (meniscus). Then I will prepare for next season with hard work, a lot of work, but today I'm so happy. Believe me I'm proud of myself because I did a good job in the free, a good quad, good triple axel combination, and I wrote a little bit of figure skating history. I've won the European title seven times, so of course I'm happy."
Commenting following Plushenko's stunning performance this afternoon, Gachinski said:
"Ultimately, I just skated for myself and did everything I could. I tried to complete all the jumps and steps and my aim is just to get everything done for myself. I was very happy with my programme. I had been waiting a long time to skate this free and I'm happy with how it went. I did everything I attempted very well."
Belgian skater, Kevin van der Perren withdrew from the Men's Free Skating at the ISU European Figure Skating Championships 2012, following the warm up, citing injury.
The Ladies European Champion 2012 was also decided today with World silver medallist, Carolina Kostner of Italy claiming the title with a combined score of 183.55. After earning 63.22 points in her Short Programme, Kostner led the Ladies going into the Free skate and went on to claim the European title for the fourth time with a 120.33 point Programme.
Taking the overall silver and bronze European medals were Finnish skater, Kiira Korpi and Elene Gedevanishvili of Georgia with 166.94 and 165.93 combined scores respectively.
Kostner who was attending her tenth Europeans this year commented on her winning Programme:
"I had an awesome feeling on the ice and just hearing the crowd cheer me on was amazing. I am very pleased with the whole week here. For me it was a big fight today. I completely cancelled the pressure out of my mind. I am looking for good performances, especially just for myself because this is my tenth European Championship; I've won it three times [before] and in those three times I never had the chance to really enjoy it. That's what I did this whole week and I'm very pleased with how it turned out."
Bronze medallist, Gedevanishvili added:
"I think my performance was pretty good. I worked really hard and it was good to feel that it paid off. The most important thing for me is that after a long time I just enjoyed skating again."
Brit, Jenna McCorkell grabbed 18th place overall following her Free Programme where she achieved a combined score of 125.41. McCorkell of Coleraine, Northern Ireland was disappointed with her skate this evening but enjoyed competing in front of her home crowds:
"I felt really good before. I was very excited because the crowd were amazing. I've never experienced anything like it. When I fell on the flip it really threw me because I've never fallen on that before. But I became tense after the fall and wasn't focused. It's my own fault. I made stupid mistakes."