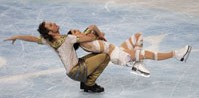 French team, Nathalie Pechalat/Fabian Bourzat clinched the 2012 Ice Dance Championship title this evening after a stunning Egyptian themed performance at the ISU European Figure Skating Championships in Sheffield.
The reigning European Champions came from second place following the Short Dance to defend their title. They scored 99.29 points in tonight's Free Programme to give them a combined score of 164.18. Taking the overall silver and bronze European medals were Russian teams Ekaterina Bobrova/Dmitri Soloviev and Elena Ilinykh/Nikita Katsalapov with 160.23 and 153.12 combined scores respectively. Ilinykh/Katsalapov stormed to third place with a 93.63 point Free Programme to climb from their 7th spot after the Short Programme earlier this week.
Fellow GB team members, Louise Walden/Owen Edwards achieved 13th place overall with a combined score of 122.59. Walden commented on the experience of performing in front of a home crowd:
"We're just excited about the whole thing. It's absolutely fantastic. The reception we got almost made me cry before we'd even started. It's very humbling and overwhelming that all those people want you to do well. We've exceeded our expectations, getting a season's best in the short and the free."
Earlier in the day the Ladies Short Programme saw 2008 World Bronze medallist, Carolina Kostner of Italy take the lead with a total segment score of 63.22. Kostner was closely followed by Finnish skater, Kiira Korpi with a score of 61.80 and in third place was Russia's Ksenia Makarova with 57.55 points.
Veteran Europeans skater Kostner enjoyed her first place skate at the Motorpoint Arena, she commented:
"I told myself, this is your tenth Europeans, simply enjoy it, who knows if you can still compete at Europeans next year. I told myself to stay calm, you've done good practices, you know how to do everything, and so far everything went well."
Korpi added:
"I feel good, it was absolutely the best [performance] for me this season. I'm so happy that I did it today although I felt quite nervous. I wanted to come here and just to do my best performance and try to enjoy the competition."
Great Britain's Jenna McCorkell recorded a score of 45.32 in her Short Programme which places her in 16th going into the Free Programme. She commented on skating in front of her home crowd:
"They're very enthusiastic. The crowd did add pressure in a way but in a good way, they're fun." McCorkell skates eighth in the Ladies Free Programme on Saturday.